Ron M. French, DC • Biography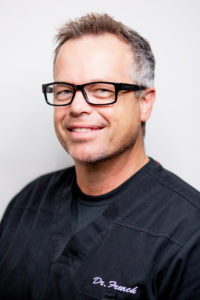 Dr. Ronald M. French was born and raised in Bakersfield, CA. Although his childhood dream of being a singer in a rock band lost its steam, he found a new passion for the field of chiropractic. Dr. French found his life had become stagnant ten years post high school, with the music business being very difficult to break into and the physical abuse his body was enduring working laborious construction jobs to pay the bills. He knew he wanted a better lifestyle and he found gratification helping people feel better.
Dr. French started studying massage therapy and was certified by the Institute of Massage Therapy Santa Barbara in 1990. Working in a health spa shortly after graduating massage school, he decided to increase his skillset and enrolled at Bakersfield College studying to become a Physical Therapist. In 1992, Dr. French was approached by a Chiropractor who had heard of all the great work he had been doing at the health spa and offered him a job in his clinic. This was a chance to experience healthcare from a clinical approach that would bring him closer to his goal of being a Physical Therapist so he jumped at the opportunity. During this time he began to witness the miracle of chiropractic. Having never been exposed to chiropractic care, he found himself in complete awe over its benefits. Every patient that came through the office thought the world of their Chiropractor and treasured the time spent under his treatment.  Dr. French was impressed and found himself with a new dream of becoming a Chiropractor. He immediately changed his major from Physical Therapy to Doctor of Chiropractic.
Dr. French's dream came true in the year 2000 when he graduated from Cleveland Chiropractic College, Los Angeles. He spent the next eight years working for many different Chiropractors learning different techniques and treatment styles before opening his own office in 2008. He is now the doctor and owner of French Family Chiropractic located at the beautiful beach town of Ventura, CA.
Chiropractic Education:
In order to receive the Doctorate of Chiropractic (DC), candidates must complete four academic years of doctorate-level education. For the first two years, this education mirrors medical school, with classes covering anatomy, biochemistry, physiology, pathology, radiology and diagnosis. Chiropractors take more units in neurology than general-practitioner MD's. The chiropractic education diverges from the medical education as they study adjustive techniques rather than pharmacology and surgery. Chiropractors must complete an internship and must also pass National Board Examinations prior to being licensed. Doctors of Chiropractic are licensed to practice in all 50 states and make up the third largest licensed health care provider group in the United States.
Ventura Office
3242 Telegraph Road, Ventura, CA
(805) 253-BACK (2225)